Are the carriages suitable for wheelchairs?
Unfortunately, our heritage carriages don't allow for wheelchair boarding. Please contact us to discuss specific mobility needs in relation to wheelchair use, and we'll be able to advise on any route-specific accessibility issues (such as station footbridges).
Can I request a forward facing seat?
Unfortunately we never know prior to departure which way round our train will be configured in relation to direction of travel, so this is not possible.
Can we take our own food and drink items when travelling in Standard or First Class?
Yes, it is perfectly in order to do this and many people chose to take their own picnic hampers on board and use the range of products from the buffet bar to top up as required. Please note though it is not permitted to do so when travelling in Premier Dining.
COVID-19 Control Measures On-Board Our Train
Due to the continued global issue with Coronavirus, the decision was made to relax some our control measures in line with Government guidelines. Staff and passengers are strongly encouraged to adopt sensible and practical precautions when on or around our services. Some initiatives brought about by Coronavirus have been retained as they are deemed reasonable and deliverable countermeasures against infection.
Below is an overview of what we have put in place:
Perspex screens.
Perspex screens have been fitted between the seats throughout the train to act as a physical barrier and separate guests from each other.
Antiseptic hand sanitiser.
Antiseptic hand sanitiser has been installed in each vestibule end and in each toilet. These will be checked throughout the day during service.
Hand sanitiser pens.
Hand sanitiser pens will be placed on the tables for each guest to use throughout the journey. These are for the guests to keep and take with them at the end of the journey if they wish.
Thank you for your co-operation and understanding.
If you have any questions, please ask one of our on-board team.
Do you have lavatories on the train?
Yes, lavatories are situated at each end of every carriage on the train.
For Pullman Dining can you cater for dietary requirements other than Vegetarian, Vegan, Gluten Free and Pescatarian?
There are multiple types of special dietary requirements, as a rule of thumb we cater for the main variants being Vegetarian, Vegan, Gluten Free and Pescatarian as standard which must be requested no later than 7 days prior to departure. If you have a requirement other than that please call our reservation team to discuss before booking as many requests can sometimes be quite easily accommodated by our experienced on board Chefs. If we can , we will, if we can not we will be honest and tell you before you book.
How do I know which platform my train departs from?
Upon arrival at your departure station please check the information screens or ask a member of station staff.
I've booked a tour that departs from a specific station, but I'd like to embark further up the line. Is this possible?
Yes, you can. Please let us know so our crew can look out for you, and bear in mind that you'll pay the same price wherever you embark.
What is the dress code on board?
In our Premier Dining carriages smart casual attire should only be considered as a suitable minimum requirement, please see our booking terms and conditions for more detailed guidelines. There is no set dress code in Standard Class and in First Class many passengers choose attire that lends it's self to their enjoyment of a relaxing journey whether smart or casual.
Will my carriage always be pulled by a steam locomotive?
We will always do our best to ensure our trains are hauled by steam locomotive. On very rare occasions, we have needed to substitute the steam engine with a diesel locomotive. This is always a last resort for Saphos Trains and only when absolutely necessary in circumstances such as steam bans due to fire risk or un expected mechanical failures.
Will my party be seated together?
Yes, we always seat parties of any number together at the same, adjacent or consecutive rows dictated by the number of people.
Can I book my children onto a Saphos tour?
Yes, you can. Children are welcome in First and Standard Class; however, the Premier carriage is reserved for adults and children aged 12 and over only.
Is the return journey included in the price?
All Saphos trips are return and this is included in the cost. We never offer a one-way service.
What is the difference between Pullman Dining and First Class?
Pullman Dining includes all meal services on board the train as specified in the tour information. First Class includes an at seat service of complimentary beverage and snack items as well as a comprehensive range of further items to purchase as you require from our buffet bar.
When will we receive our travel documents?
Travel documents including boarding cards, confirmed passenger timings and any relevant itinerary information will be sent to you by post and you should receive these usually no later than 7 days prior to the departure date.
SEATING PLAN
Welcome to cushioned seats and plenty of leg room on board your Saphos Train. All our comfortable seating is arranged around tables, either for four or two passengers. Take a look at our seating plans to find out more.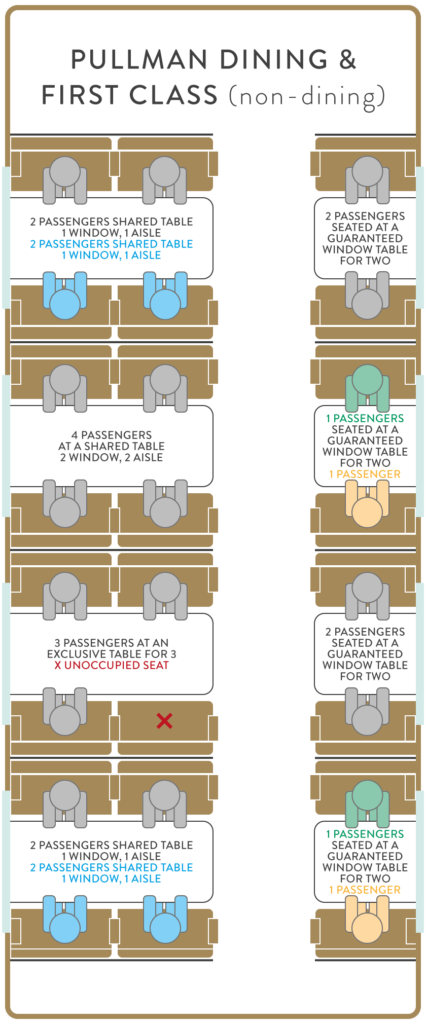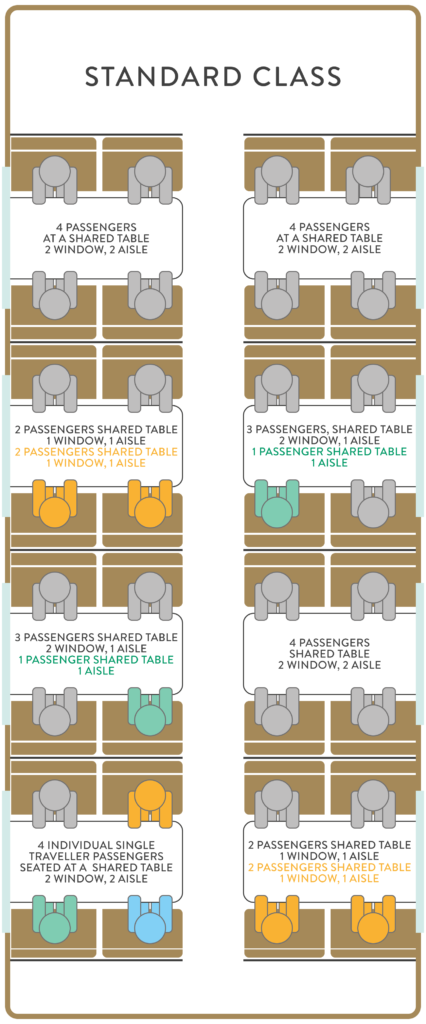 – All our seating is arranged around tables for a maximum of four or two people
– All tables are located next to a window.
– Single travellers can book a seat at a window table for two (if available). This is the only way to guarantee a window seat as a single traveller
– It is not possible to book 3 seats at a 'Window Table for 2'.
CLASSES OF TRAVEL
Sit back and relax, welcome aboard Saphos Trains. Crisp white tablecloths set the scene for exquisite fine dining. Toast to your adventure in the bar. Cruise across stunning landscapes en route to the most iconic destinations in the British Isles whilst being served the finest of the regions food and drink.
PULLMAN DINING
The finest food and luxurious surroundings come together to create a memorable dining experience. Your dedicated steward will make sure your glasses are filled, while you take the time to enjoy reading our delectable menu. Arrive at your destination having enjoyed your magnificent English breakfast and look forward to a four-course dinner on your return. We'll make sure that every meal in Pullman Dining exceeds your expectations.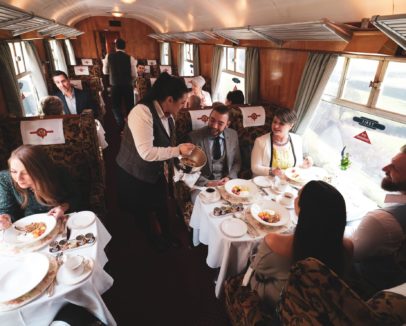 FIRST CLASS
As your steam engine pulls you along at her leisurely pace, sit back and enjoy the time to unwind. Our First Class carriages are designed for your comfort, with cushioned seats set around tables. Watch the world go by through the picture window as your steward brings you tea, coffee and biscuits, or take a trip to the buffet bar for tempting extra supplies…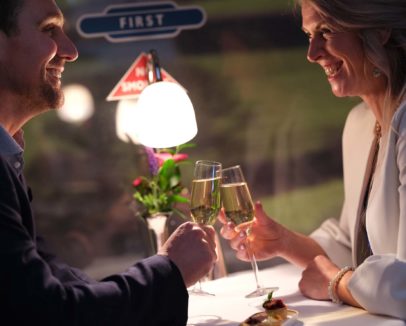 STANDARD CLASS
Travelling by steam is always special, and our well-appointed Standard Class carriages are perfect for days out with family and friends. All our reserved seating is arranged around tables for four, with plenty of leg room for all. Enjoy the scenery along the route, and don't forget to treat yourself to something from the buffet…